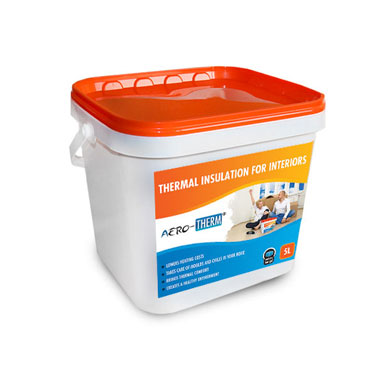 AERO-THERM® contributes to a creation and maintenance of thermal comfort.
Increases effectivity of the heating system

Treated areas react quickly to the change of a temperature

Creates anti-condensation layer, eliminates thermal bridges

The backing construction doesn´t stop accumulating heat

Can be applied localy without a sign of a crossing

Quick and easy application with no need of any construction fasteners

Inner wall building insulation
The reason why use thermo active coating is to influence radiant temperature of the area treated (ceilings,peripheral constructions) or limiting the amount of air moisture condensation mainly in corners and places where the surface temperature drops under the dew point. AERO-THERM® contains 3M glass microspheres, aerogel, binders and additives. The effective thermo active layer is only 1mm.
AERO-THERM® thermo active coating is a water-dilutable putty, which can be applied to a surface of a wall, ceiling, or into the floor formation.
AERO-THERM® takes part in the New Green Savings program.
Contains Aerogel, the best-known insulation.